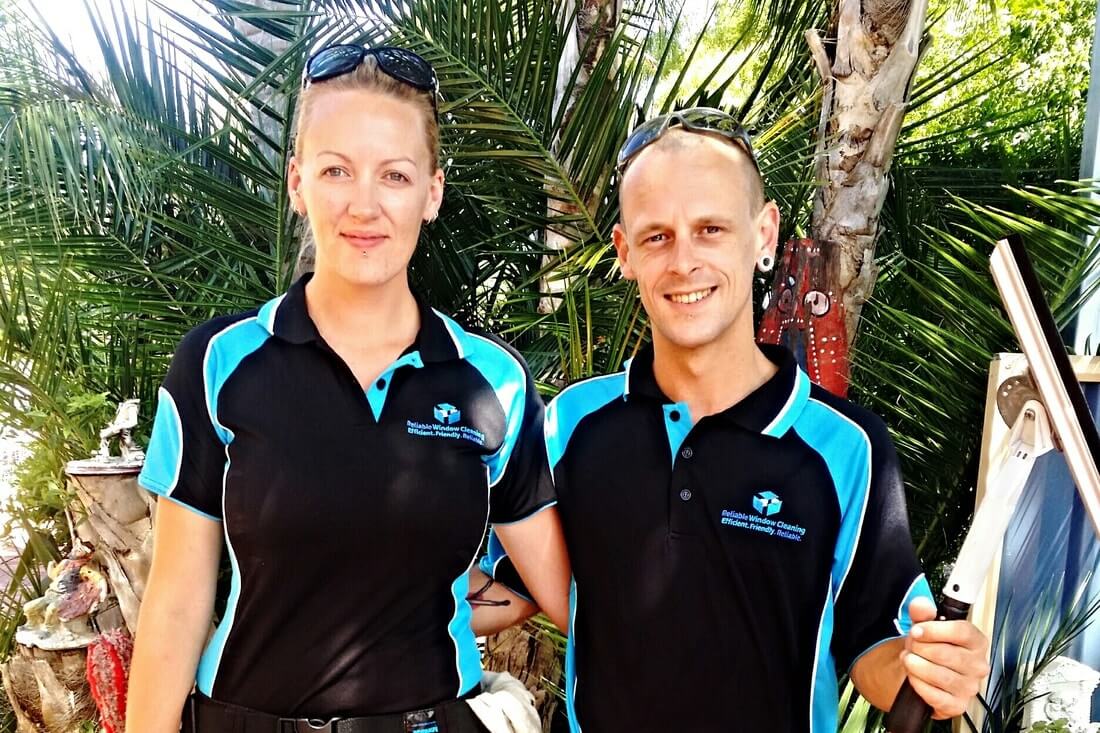 The Perth Professional Window Cleaning Team
My name is Ryan and this is my wife Lauren, together we own and run Reliable Window Cleaning. We are a hardworking, easy going pair and work very well as a team both on the job and at home. We love the work we do and take a lot of pride and care in every job, wherever it is in Perth!
We are professional, uniformed, tidy, have police clearances and carry $20mil Public Liability Insurance.
Why our window cleaners?
Firstly, when it comes to cleaning windows, we are all about safety. We do not undertake any work we feel will risk the safety of ourselves or anyone else. Nor will we carry out work that will damage property or belongings. We also have $20mil Public Liability Insurance, just in case.
Followed closely behind safety, we work for quality. We have the right equipment and know-how necessary to deliver a high level of workmanship in a timely manner. Most importantly we have the right attitude and take pride in what we do, whether it's a Mount Claremont home or a Perth CBD business.
We offer a full range of professional window cleaning services for residential and light commercial properties from Fremantle to Ellenbrook to Kalamunda. Our services include track cleaning, high pressure washing of flyscreens, acid stain removal and more. We also provide cleaning services for pool fencing, stair and balcony balustrading and skylights. And with our new mobile water de-ionizer, we can clean second and third floor windows from the ground.
---
Before and after cleaning services – the difference is clear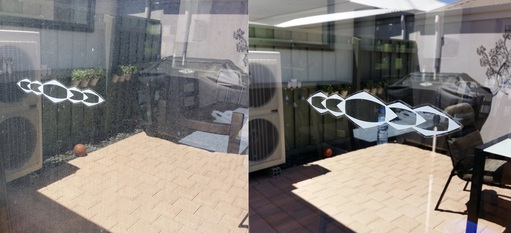 Professional window cleaning is an extremely rewarding job with instant job and customer satisfaction. Over time dust build up and rain reduce visibility and natural lighting.
A service by our window cleaners often helps maintain the quality of your glass and greatly improves the look and feel of your home.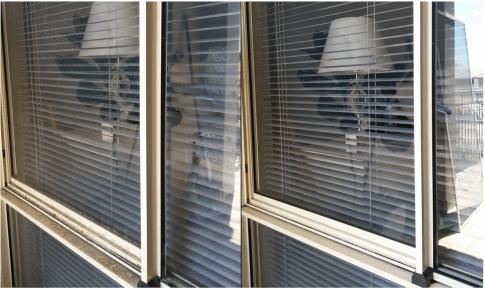 Wind drives dirt and sand into the gaps in your frames and behind flyscreens. Left unattended, flyscreens can become hard to remove and sliding windows lose their smoothness of operation.
Dirt can become lodged under window seals causing the window to leak. Moisture in the frame can promote moss and mould growth.
---
We Support Local Businesses Too!
We value all our customers and pride ourselves on quality workmanship and reliability. Our promise is whether you're on in the north end, in the southern suburbs, or out in Ellenbrook or Kalamunda we'll come to you and ensure you get the best quality clean. As a result, most of our work comes from word of mouth and referrals. We like to pay that forward by giving the businesses that use us a little plug on our website. Just a small thanks for supporting us.
After all, we're locals too!
Reliable Window Cleaning are the Perth experts when it comes to getting your windows sparkling. Impress neighbours and clients with a bit of help from Ryan and Lauren! Book our professional cleaning services today by calling Ryan on 0478 742 241 or Lauren on 0414 336 002.
---
What Our Customers Say
"Thanks so much, great job and always smiling, even hubby was impressed and that's rare! (and thanks for tolerating my 3yo motor mouth!)"
Camilla, Glen Forrest
"See that? That's my back garden, something I couldn't see before because of all the rain marks, dirt, and most of all tiny dirty hand prints all over the place! Thank you so much for coming out today, I'm still smiling!" Lauren, The Vines
"Thanks for the awesome cleaning job you completed on New Years Eve. Prompt service, reasonable price and an excellent job. Our windows look amazing!!!!" Karina, Ellenbrook
"Hey wow thanks so much guys for my clean I love them fast service friendly sparkling clean windows nothing better totally recommend reliable window cleans thanks again abs" Abby, Atwell
"Hey guys, thank you so much for stopping by today, my windows look …AMAZING!!! now to just try and keep sticky little fingers away from them" Sophie, Aveley
"Can't recommend this young couple highly enough. Very professional, very friendly and reliable and a credit to themselves. Have shared your site on my FB page." Vivienne, South Guildford
"Absolutely excellent service, very professional and reliable, would highly recommend reliable window cleaning service for the price and quality of the job they do. I am a very, very ,very happy customer." Sioux, Woodbridge
"I can see out of my windows because they now sparkle. Thankyou guys, awesome job and fabulous service. See you next year." Belinda, Darlington
"Fantastic service with a smile. The windows were cleaned thoroughly and quickly. I would recommend this team to anyone and will definitely use them again." Emilie, Guildford
"The Best window cleaners I've ever used. Friendly, efficient and always do an excellent job." Wendy, Helena Valley
"Always here on time and do an amazing job at an amazing price! Thanks guys." Brooke, Ellenbrook
"This company have got window cleaning down to a Art I would highly recommend them to anyone. So cheerful, efficient, professional, and affordable. Thanks so much team you saved me hours of cleaning and My windows look beyond amazing." Sheree, Ocean Reef
Like Us On Facebook